A post work outing which neatly divides into two parts, so I've decided to split it over two posts. The first of which covers a trip to Burns Beck Moss Nature Reserve. It's a wetland reserve with Burns Beck, a tributary of the Lune naturally, running through it. It's access land, but the information board near the entrance asks that you stick to the path, and given how wet it is, it seems both reasonable and sensible to use the mostly-duckboarded route.
I was struck by how many Ringlets I saw, in fact by how many I've seen generally so far this summer. Since then, today in fact, I've chatted with somebody much better informed than I am, who tells me that species like Ringlets, and also Meadow Browns and Gate-keepers, which can feed on a variety of grasses, have been very successful in recent years and have been extending their range northwards, perhaps because of our milder winters and wetter summers which benefit grasses.
This small bridge over the beck was home to a pair of Common Lizards, happily sunning themselves until I came along and disturbed them.
Wind Farm on unnamed (on OS map) hill south of Burns Beck Moss.
There was a lot of Valerian flowering on the moss; it seemed to be very attractive to a variety of hover-flies.
Small Skipper.
A Crane Fly, couldn't say which one.
Possibly Snipe Fly.
The flies which are missing from my photographs are the many Horse Flies, or Clegs, which were making a meal of my calves. This has happened on many of my other evening walks this summer, but I haven't usually reacted – this time I ended up with numerous angry red weals which itched like crazy and took the best part of a week to disappear completely.
Opposite the reserve an old quarry gives plenty of off-road parking. The road-side verges and the edges of the quarry provided more flowers to photograph…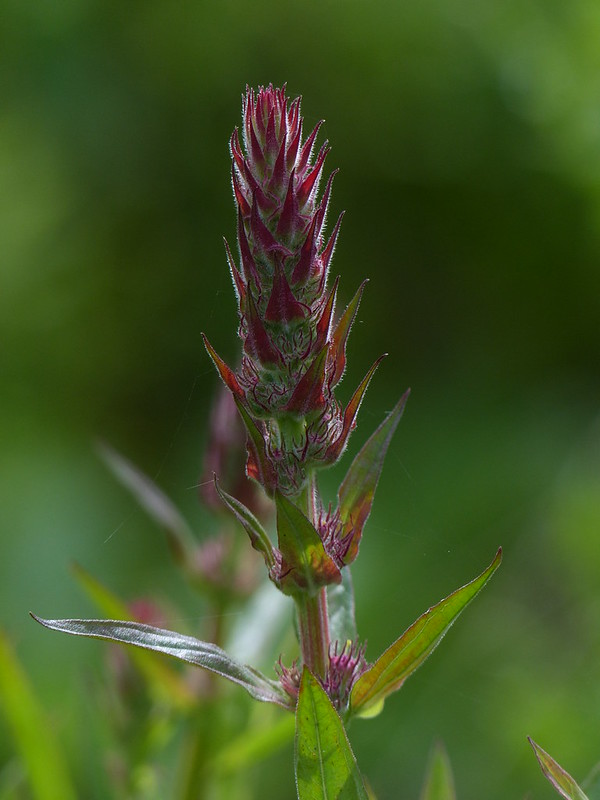 A Willow-Herb?
Meadow Crane's-bill: more often seen on verges than meadows these days.
Pencilled Crane's-bill (I think), an introduced species.
There was lots of Hogweed on the verges, all of it very busy with Soldier Beetles and numerous small flies, but I also spotted this small, but rather handsome moth…
I've tried, in vain, to identify it from my Field Guide.
Likewise, this flower, which seems very distinctive, with it's pea-type flowers and very narrow leaves. I thought it would be very easy to identify, but…wrong again! It was growing, very successfully, from spoil heaps of gravel at the edge of the quarry and shall remain a mystery, at least for now.