After a flurry of 'Little and Often' posts last spring, eagle-eyed readers will have noticed that I've been increasingly quiet about my fitness drive. I kept it going through the dark days of winter and it was easy to do in the spring and the early summer, but then….I'm not even really sure when exactly it fizzled out, but it did, as these things are wont to do, at least where I'm concerned anyway.
I'm still feeling the benefits though and the New Year feels like an appropriate time to get cracking again, even though I don't generally make resolutions.
Part of the impetus is my 'new' phone and the MapMyWalk App (I'm sure lots of similar products are available). Last Spring I flirted with the idea of having a crack at a 'walk 1000 miles in the year' challenge, this year I'm going to get on and do it. Judging by the plethora of websites which offer to help and encourage you to do just that, I must be one among many.
These photos were taken on some of the many local rambles which kick-started my progress whilst I was still off work. The weather was a bit mixed, to say the least, there was no flooding, but paths were about as muddy as I can remember seeing them and walking across the fields involved an uncomfortable amount of slithering, squelching and slipping. One day in Eaves Wood I lost my footing completely and fell rather heavily, fortunately without any lasting consequences.
I tended not to venture particularly far, heading out several times each day rather than aiming for a single long walk. There were numerous trips to the Cove and Eaves Wood as well as a solitary wander around Hawes Water.
On New Year's Day, whilst A was out for a Penny Walk with her friend, the rest of the family took part in a South Ribble Orienteering Club event. It was a score event, rather than following a course it was just a case of finding as many controls as possible in an hour. Great fun.
Later in the week, A and B joined me for an Eaves Wood jaunt.
An aside – this hole in a limestone pavement has been the source of an ongoing family dispute: until recently the top was blocked off with a number of branches. Little S and I contended that it wasn't that deep a hole – about B's height we maintained. B was adamant that it was much deeper. He looks chuffed here because, now that the covering branches are gone, it's evident that he was right.
One day, our friend X-Ray came over and Little S and I took him out for a stroll around Eaves Wood and across The Lots. S was searching for holocrons using his Stars Wars Force Band, so he was happy. (No, I don't understand what I just wrote either). It was very windy and a bit grim, but as we reached The Pepper Pot on Castlebarrow we had some brief moments of extraordinary light.
After his walk, X-Ray stopped on for a vegan curry and a few games, including Camel Cup and King Domino. Hopefully, we'll do something similar again soon.
The tides were high all week. I think that the water was already receding here…
…and that the sea had actually been into the smelly cave at the Cove.
These photos were all taken with my phone. It's not that I've abandoned my camera, but with unpredictability of the weather, it was easy just to stick the phone in my back pocket, where I wanted it anyway to clock my mileage, and use it for photos when opportunities arose.
It's much less faff uploading the photos too.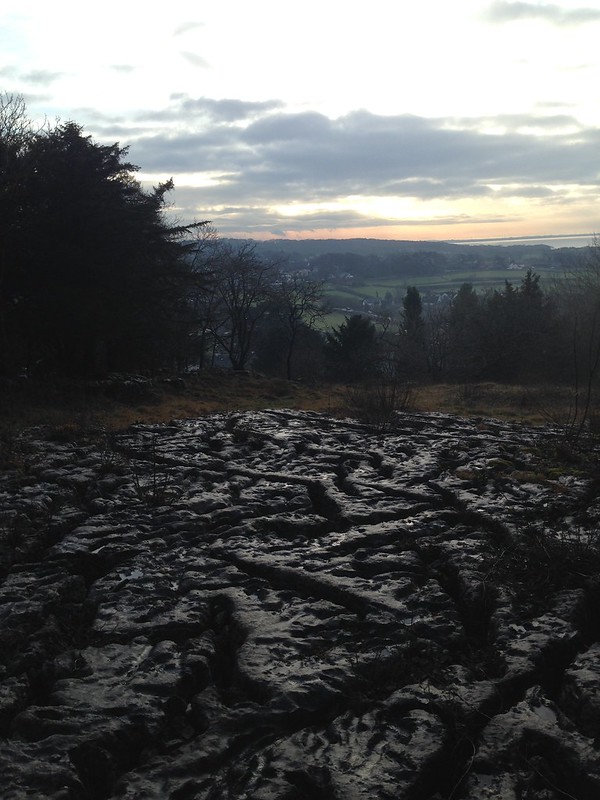 A thousand miles is a fairly arbitrary target, I know, but it gives me something to aim for. To be honest, at the moment I'm just enjoying watching the distance steadily accumulating.
Some rules: I'm on my feet most of the day at work, but that's walking I would do anyway. None of that counts. Nor pottering about the house or garden. Walking to the Co-op however, rather than taking the car, is fair game.
I haven't decided yet whether any 'travel' done under my own steam counts, so that swimming, cycling, skateboarding, canoeing etcetera would add to the total or not.
Somewhere during the week, we squeezed in visits to the climbing wall in Lancaster and also to see Aladdin at the Dukes with some of our friends from the village (hello Dr R!).
Another aside: I noticed, down at The Cove, that the seasonal springs, which rise amongst the rocks on the bottom left of the picture below…
…are now supplemented by, or perhaps have partially moved to, those two large greenish hollows on the bottom right of the photo. You can see that a fairly substantial stream out across the mud has been established. It's been there a while, I've been enjoying the foreground it provides for my sunset photos…
A low key sunset on a very still evening, which was very restful, but I think I may have said much the same thing only a few posts ago.